sarah ross-thompson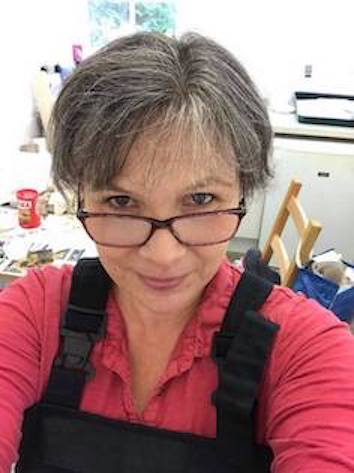 Born in London in 1965, I moved to Norfolk in 1970 where I attended Norwich High School for Girls (1976-1983) before heading back to London in 1983 to do a BA Hons in English and Classics. After a brief spell in Derbyshire I found myself in the pretty town of Wimborne, Dorset with two small children in tow and playing the full time mum. Art had always been a passion, but as is the case for many, it was not considered a suitable or secure career path for an academic child.
A few months after arriving in Wimborne, I joined a local life class, where the inspirational tutor, Minna Harvey, quickly sowed the seed that I really ought to go to Art School. With her encouragement and the support of my husband I enrolled at Bournemouth and Poole College of Art and Design as a part-time student. Graduating in 1997 with a distinction, I contemplated doing a Fine Art Degree at Winchester, but opportunities to make and sell steered me in a different direction. With the proceeds from my first solo show I was able to buy an etching press and set up working from home. Collagraphy was an easy choice of technique, as an inexpensive medium using found objects to create the printing plates. Without the acids needed for etching, it was also a safer technique to experiment with at home with two small children. After 20 years plus of 'experimenting' I would consider myself to be essentially self-taught and I believe that this has helped me to develop a recognisable thumbprint or style.
1997 - I submitted two of my Foundation final pieces to the National Print Exhibition at the Mall Galleries in London. Both were accepted and one was used as an illustration in the catalogue. The following year I was offered my first solo show as part of the City of London Festival of Arts.
1998 - I converted a room in my house in Dorset to a purpose-built studio, housing the etching press bought from the proceeds of the London exhibition. This allowed me to run occasional workshops from home and show visitors around my workspace,. This in turn led to my participation in the biennial Dorset Arts Weeks event for many years.
2013 - After twenty years in Dorset, it was time for a change and we made the move to Lochgoilhead, in Argyll. Having exhibited widely throughout England, and established a solid gallery base in the South, it was now time to see how hard it would be to start again in a remote Scottish community. The transition was surprisingly easy in the event, as it turned out that there was a picture framer living in my new road – fate? I quickly made contact with a number of Scottish galleries who all seemed keen to show my work, particularly as I was awash with new ideas, seeing this new landscape with fresh eyes.
2014 - Several of my tree collagraphs were featured in a book published in America called, Green Art: Trees, Leaves, and Roots [E. Ashley Rooney, Margery Goldberg]
2015 - I was contacted by the French magazine Pratiques Des Arts, and the online magazine Inspirational, who both produced features on my work. I also had two pieces of work selected and hung in the Winter exhibition at the Scottish Royal Academy on Princes Street in Edinburgh. These two pieces were the first work I created after our house fire in the March of 2015.
2017 - I visited Mexico and toured the country for three weeks with my Mexican printmaker friend Alejandra Villarreal. Highlights were visiting Oaxaca, the printmaking capital of Mexico and hot air ballooning over the Pyramids at Teotihuacan.
2018 - Ale came to the UK for the Travelling Printmakers joint show in Scotland, followed by a round Britain tour – the return leg of our exchange. Later in the year one of my iconic drystone wall images was used as the front cover of Between Stone and Sky by Whitney Brown, an American drystone waller and writer.
2019 – Following my Mexican travels my thoughts turned to visiting other friends I had made through social media and my plans to visit the various printmaking communities I had befriended online, came to fruition. I visited Australia, Tasmania and New Zealand in the Spring, spending time with printmaking studios on the Central East Coast, Canberra, Melbourne, the Southern Highlands and Yarrawonga.
2020 - I was commissioned to produce the cover for Patrick Laurie's Native which was published at the beginning of 2020. This piece required some serious consideration as the requirements pushed me out of my comfort zone into buildings and wildlife as part of the brief.
For more details on where you can see my work click on outlets and exhibitions.